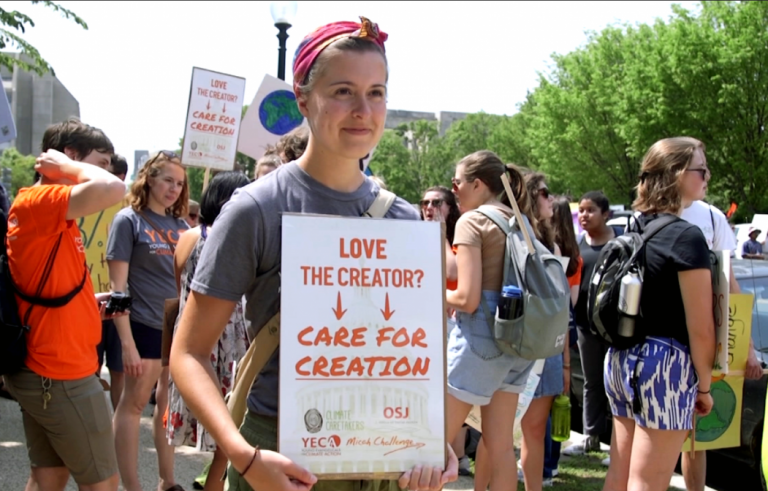 ---
More than 200,000 gathered in DC for the
People's Climate March
last month, with sister marches taking place in 370 cities across the nation. Accompanied by lively chanting and clever signage, activists, demonstrators and concerned citizens showed up
en masse
 to communicate the importance of protecting our environment and our way of life from a rapidly changing climate. Many also came out in protest of Trump—who 
continues to dither
on whether to pull out of the Paris accord—and an administration that sees climate funding as a
"waste" of taxpayer money
. More than anything else, it was a day dedicated to speaking out on behalf of future generations and jump-starting a more solution-focused conversation on climate.
Shortly before the march I put out a call on Facebook to watch for and promote coverage of bipartisan turnout. One of the reasons talk about climate change remains a hot-button issue in Washington—other than the hegemonic sway of the fossil fuel industry, of course—is that conservative voices who speak sensibly on the subject aren't given any visibility. And that's not because such voices don't exist. At the grassroots level, and even in the halls of Congress, there are conservatives and evangelicals committed to shaking up the status quo. The more we prop up the bellwethers and nonconformists the sooner telling the truth about climate will be seen not as a contentious political act but as an essential public duty.
If last month's Climate March is any indication, there are promising signs that the sea change we've been waiting for may already be underway. PBS NewsHour aired a story yesterday on the conservative face of the environmental movement, showcasing a number of conservative and evangelical activists who organized and demonstrated in DC. Meet the "Eco-Right," as they've come to be called, a motley, big-tent community united by the conviction that climate change represents an existential risk and policy priority that transcends party lines.
We have Saskia De Melker, NewsHour videographer and journalist—and good friend of mine—to thank for this story. As she wrote on Facebook:

"It's no surprise that climate change has been one among the many issues dividing Republicans and Democrats here in the U.S. But there are a growing number of conservative voices rising up to address climate change….. and they're proposing solutions and talking about the issue in a way that resonates with those on the right side of the aisle.

Stephanie Sy, Laura J. Fong and I have spent loads of time these last couple months learning about and documenting the views and work of key leaders in this growing "eco-right" movement including young Christians and House Republicans, an influential Republican donor and Reagan's Secretary of State George P. Shultz."

One group they profile is Young Evangelicals for Climate Action, who see stewardship of the planet as a central obligation of their faith, along with the Christian concern for "the least of these." The effort to harmonize the ethic of environmentalism and conservation with the Christian message places groups like YECA largely outside the evangelical mainstream. According to the latest Pew poll, just 28% of white evangelicals, for example, accept that rising temperatures are due to human activities, while 37% say there is no solid evidence the planet is even warming. Despite these cultural impediments, YECA leaders like Kyle Meyaard-Schaap hope to mobilize a new generation of climate-oriented evangelicals.
George Shultz, former secretary to Presidents Reagan and Nixon, and Andy Sabin, a moneyed GOP donor who hopes to one day bend Trump's ear on climate-friendly policies, are interviewed as well. Shultz now heads up the Climate Leadership Council, an international research and advocacy group who recently published a conservative, Paris-compliant case for carbon dividends.
Perhaps the most exciting news on the bipartisan front is the Climate Solutions Caucus in the House. It was founded just last year by two representatives from Florida—one Republican and the other Democrat. New members must abide by the same pattern; in order to join, you must recruit someone from across the aisle. House membership currently sits at 38 representatives.
These are refreshing flickers of hope at a time when resentment and disillusionment seem more accessible options. We often wonder what progress we might have made were our elected leaders en bloc committed to taking climate change seriously. We consider where we'd be under a Congress in which wholesale denial of the underlying science didn't dominate the thinking of one of the two major parties, a world in which caring about the environment wasn't counted as a "liberal" cause. Building bridges across ideological lines has become more important than ever in forging this reality.
The recent Climate March is a single, albeit high-profile, measure of success, but if the right voices catch momentum we may soon find that sanity on climate has at last found a home among mainstream conservative thought. Faced with mounting ecological risk and a crisis with intergenerational ramifications, millennials of all stripes are no longer willing to sit idly by as we continue down the path of environmentally unsustainable energy sources long past their expiration date. Innovation and progress are well within the realm of plausibility, and it's joint solutions that will get us there. Trump & Co. may be choosing to bury their head in the sand, but the increasingly bipartisan call to action is a story that can hardly be ignored.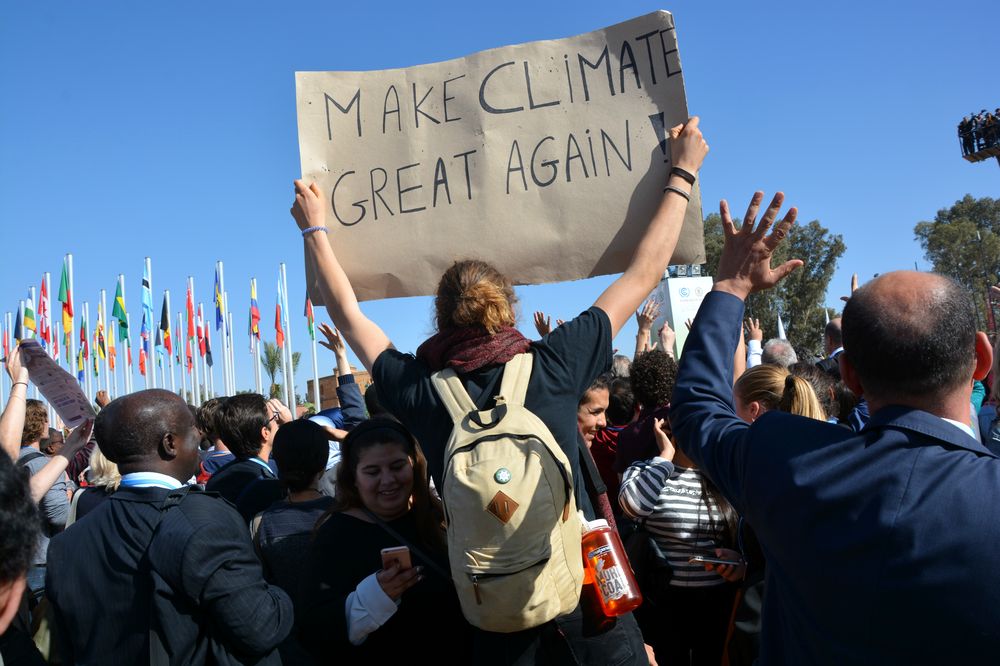 ---
External link:  Rising conservative voices call for climate change action
Further reading:
---