February 1, 2018 at 9:51 PM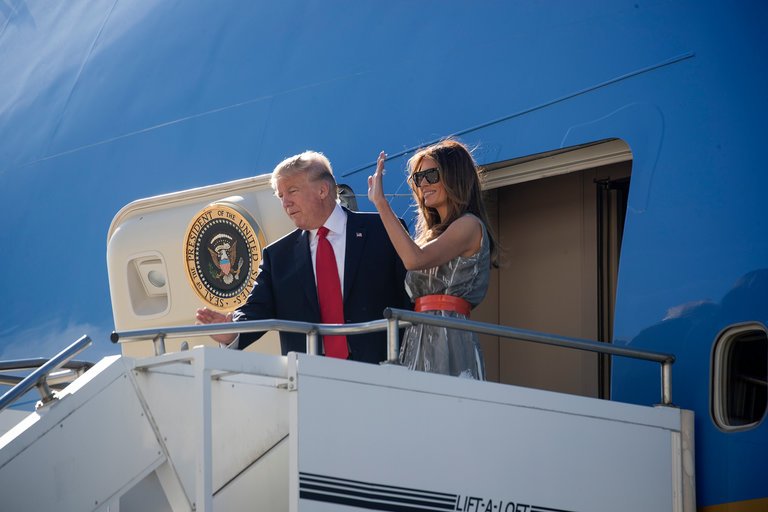 ---
A
new report
by The New York Times sheds light on Team Trump's rush last summer to get ahead of forthcoming news potentially landing Donald Jr. in hot water.
The news
, also broke by The Times, concerned a meeting held at Trump Tower in June 2016 between Trump campaign staff and well connected Russian lawyer, Natalia Veselnitskaya. The Trump administration's official account of this meeting, as well as the origin of that account, have become pressing issues in Robert Mueller's ongoing inquiry into possible collusion between the Trump campaign and Russia.
The meeting followed a series of emails between Don Junior and Rob Goldstone. (Those emails were made public in July of last year.) As we'll remember, friend and entertainment magnate Goldstone contacted Don Jr. to inform him about an offer of kompromat on Hillary Clinton as "part of Russia and its government's support for Mr Trump." Don Jr wrote back promptly, expressing strong interest ("I love it") in setting up a meeting, which took place later that month. Opposite Veselnitskaya and her interpreter was the younger Trump and two staffers Don Jr. had copied on the email chain, Paul Manafort and Jared Kushner.1
Prior to this point, Trump Jr. routinely balked at any suggestion that his father's campaign had received assistance from the Russian government, dismissing the allegations as "disgusting" and "phony." When news of the meeting and relevant emails emerged, he issued a brief and vague statement to The Times that the meeting had been "primarily" to discuss issues unrelated to the campaign. Veselnitskaya went further in her statement, saying "nothing at all about the presidential campaign" had been discussed.
Once he found out that The Times were in fact in possession of the emails, Donald Jr. changed his tune, conceding the intent of the meeting but downplaying its significance, claiming that Veselnitskaya "had no meaningful information" to offer. He charged Veselnitskaya with spewing some of "the most inane nonsense" he'd ever heard, and said the exchange left him "actually agitated."
The leaked information comes as special counsel Mueller and his team call on their latest witness to be interviewed as part of the DOJ's investigation, Mark Corallo. Corallo was the public face of Trump's legal team before resigning this past July. Three people who spoke to the NYT say he'll be filling Mueller in on the circumstances surrounding his resignation, involving privileged discussions with Trump and key staff members that he found alarming and, potentially, legally compromising. As The Times reports:

"Mr. Corallo is planning to tell Mr. Mueller about a previously undisclosed conference call with Mr. Trump and Hope Hicks, the White House communications director, according to the three people. Mr. Corallo planned to tell investigators that Ms. Hicks said during the call that emails written by Donald Trump Jr. before the Trump Tower meeting — in which the younger Mr. Trump said he was eager to receive political dirt about Mrs. Clinton from the Russians — "will never get out." That left Mr. Corallo with concerns that Ms. Hicks could be contemplating obstructing justice, the people said.

[…]

The conference call with the president, Mr. Corallo and Ms. Hicks took place the next morning, and what transpired on the call is a matter of dispute.

In Mr. Corallo's account — which he provided contemporaneously to three colleagues who later gave it to The Times — he told both Mr. Trump and Ms. Hicks that the statement drafted aboard Air Force One would backfire because documents would eventually surface showing that the meeting had been set up for the Trump campaign to get political dirt about Mrs. Clinton from the Russians."

Apparently there was rather heated internal turmoil among Trump staffers concerning the sensitive emails and what the appropriate explanation should be for the subsequent meeting at Trump Tower in which they culminated. Thanks to The Times report, we now have more of a play by play featuring Trump and his aides scrambling aboard Air Force One to dash off a statement as questions began pouring in from the press.
In one corner we have the enigmatic and reclusive Hope Hicks, who consistently assured Trump that those emails would "never" see the light of day because, one can only assume, she's ostensibly forgotten how the internet works. Then you have Trump's legal hands, namely Corallo, who warned that they would not stay hidden for long and that these aren't matters that should be discussed without an attorney present anyway. As would soon become clear, not everyone at Camp Trump was on the same page.


It turns out that not one but two statements — two contradictory, inconsistent statements, that is — were sent out. One was the canned response drafted on the flight home from the G-20 summit and sent to The Times for its story. In it, Don Jr. does not deny who the meeting was with or who was in attendance. As far as the purpose of the meeting, he builds in plausible deniability by omitting any reference to dirt on Clinton, instead claiming the meeting was "primarily" about Russia's ban on the US adoption of Russian babies as retaliation for the Magnitsky Act.
Another, conflicting version of events was published by the news site Circa. Their story includes a statement from Trump's legal team alleging the meeting in question was actually a set-up by Democrats who wished to bulk up the Trump-Russia narrative. Corallo is quoted in the story as having learned "that the participants in the meeting misrepresented who they were and who they worked for." He then ties the fraught meeting to Fusion GPS, a private intelligence firm whose research produced the now-legendary Steele dossier.2
One can only imagine the fire and fury billowing through the White House the next day. On the one hand you have an official statement released by Don Jr. stating the meeting was above aboard, legitimate. And on the other you have Trump's legal team saying it was an elaborately conceived mousetrap, a farce. Which version to believe? Here was one of the most consequential internal crises yet for the administration, and it was botched with all the gaucherie of a first-time bullrider.
Given this newly minted context, it's hardly a mystery why Corallo's resignation followed shortly thereafter. According to Corallo's colleagues, Ms. Hicks accused him of "trafficking in conspiracy theories and drawing more attention to the story." Since the apparent goal of the release hammered out aboard Air Force One was to be terse and as minimally incriminating as possible, it's understandable that a convoluted statement describing Democrat-led sabotage which can be easily fact checked and therefore discredited would not have been particularly well received by an administration hoping to quash suspicions of collusion. Regardless, the damage had already been done by issuing inconsistent statements, and this meant Corallo was out.
To be sure, none of this is the least bit surprising, though it is nice to be able to pad the general narrative with additional details. What could not be more clear is that everyone involved with Don Jr.'s misfeasance absolutely knew how incendiary his emails were and was aware of the problems the related meeting presented for the fledgling administration. Trump's entourage was deeply concerned — and at odds — about how to best get out in front of this story. Their overhasty eleventh-hour operation cost them dearly, bringing increased scrutiny from investigators in Washington.
While the latest report provides useful context for understanding where the Trump-Russia probe is headed next, the headline for the Mueller team hasn't changed: those emails exist, they express clear intent to receive covert, politically charged information from a hostile foreign power, and rather than contact the FBI at the time the correspondence was initially received — as any self-respecting patriot would have done — the Trump campaign pursued the offer and afterward concealed both the emails and the meeting for nearly a year.
As Guardian correspondent Luke Harding has observed, if that isn't collusion I don't know what is.
---
External link:  Mueller Zeros In on Story Put Together About Trump Tower Meeting
Further reading:
Image credit:   Stephen Crowley/The New York Times
---
Also in attendance was American businessman, former Soviet intelligence officer, and anti-Magnitsky Act campaigner Rinat Akhmetshin, and Ike Kaveladze, vice president of Russian oligarch Aras Agalarov's real estate enterprise known as Crocus Group. The translator's name was Anatoli Samochornov.
[↩]
Contrary to what some reports have suggested, Fusion GPS is not a "liberal" organization, at least not any more than it is a conservative one. Fusion does not strictly contract with left-leaning clients, but with conservative groups as well, having performed oppo research for the Washington Free Beacon — a conservative political website — on Trump and other Republican primary candidates. After Trump won said primary, further research into Trump was conducted on behalf of the DNC, beginning in June 2016.
[↩]