January 4, 2012 at 12:45 PM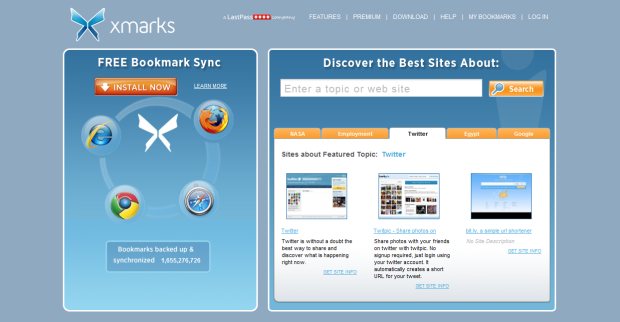 ---
Managing your bookmarks can be a pain, especially if you use multiple browsers and computers. If you're looking for a bookmarking service with cross-browser reach, look no further than
Xmarks
. There isn't a simpler solution out there for consolidating your favorite links across browsers, computers and even your mobile devices. If you use Safari on a Mac at home and Internet Explorer on a PC at work, for example, Xmarks will unify your bookmarks into a single list.
Compatible with Chrome, Firefox, Internet Explorer and Safari, you simply install the Xmarks add-on for each of the browsers you use. Bookmarks added or removed within other browsers or installations will stay consistent across all browsers in their respective favorites or bookmarks listings.
Xmarks can also sync to the cloud multiple browsing sessions, with a unique set of tabs for each. Whenever you set up a computer or browser to sync with Xmarks, you can label that instance. Thus, no matter which installation you're working from, you can select a session and resume from where you left off.
To start, install the add-on to one of your browsers and create a user account to attach to your links. You can then tell Xmarks to store your current browser's list of bookmarks as the starting point. When you sign in with a different browser, you can tell it to merge the current browser's links with the previously stored list. You can then add, delete and rearrange your archive as you please through the Xmarks website. You can set it to sync automatically after closing your browser, or you can sync ad-hoc by navigating to the extension's options menu.
Xmarks for Mobile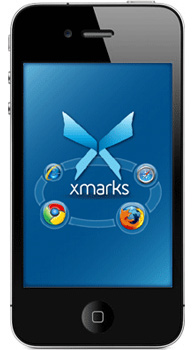 For Android, iOS and Blackberry devices, you can download the official apps, which (after Xmarks' acquisition by LastPass) is now a 14-day free trial, after which you must agree to a $12 annual fee to continue using the app. From the app itself, you can manage your bookmarks and open them using any of your installed browsers.
You can also sync your Xmarks list to the default Android, iOS or Blackberry browser by hitting Menu –> Settings –> Sync folder with browser. All of your Xmarks links will then automatically sync with your native browser's bookmarks.
Note that the app is not mandatory since you can access Xmarks through the web. On your PC/Mac or your mobile device, you can alternatively navigate to my.xmarks.com using any browser and access your cloud-stored bookmark archive that way. This is useful if you'd like to keep the bookmark lists of certain browsers separate but still want access to your Xmarks repository. It would also be useful, as mentioned above, if you would like to continue using your mobile browser of choice and would like to sidestep the app and annual fee.
One final note is that you if you are currently using Firefox Sync or Chrome Sync, make sure to disable it on all your computers prior to using Xmarks, as using both can result in duplicate bookmarks.
Go Get Started
Xmarks solves one of the biggest problems with using multiple browsers and PCs and is a perfect example of how you can make technology work for you.
All of the relevant links are below. And check back in tomorrow for a comprehensive article on syncing browsing activity between your Android device and your desktop or laptop.
Xmarks official website
Xmarks for Android
Xmarks for iOS
Xmarks for Blackberry
---